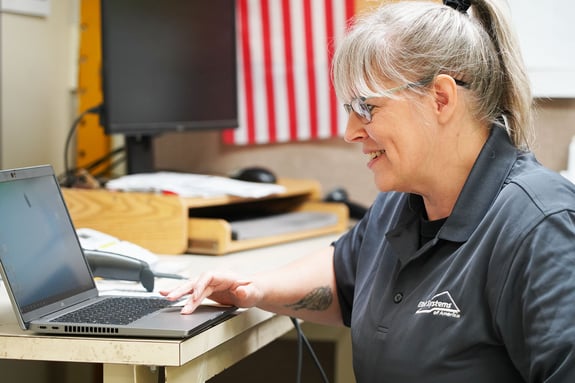 Supply Chain Management
A reliable and ethical supply chain is critical to Elbit America's ability to deliver superior products and services. We have several policies and procedures in place to ensure responsible supply chain management. Part of our due diligence for suppliers and third-party vendors includes a 3rd Party Certified AS9100 Quality Management System (ISO9100 can be substituted with appropriate approvals), a supplier onboarding and maintenance policy and supplier performance management process. Additionally, all suppliers contracts require acceptance of the DFARS 252.204-7012 Safeguarding Covered Defense information and Cyber Incident Reporting.
Our Supply Chain Team tracks all of our vendors using Security Scorecard, an information security company that publicly scores and rates cybersecurity practices of companies by analyzing cyber threat intelligence signals. When working with a new supplier, we expand the onboarding process by asking clarifying questions on their quality processes, ethics and certifications. Before working with a supplier, we ensure they are certified to federal standards around human trafficking, child labor and precious metals. Suppliers remain on our list of approved suppliers for 2 years before they must be reassessed by Elbit America.
COMPONENT
Obtain Sustainability Commitment from 50% of Key Suppliers
Maintain 100% completion of Ethics Training
Maintain 100% completion of Human Trafficking Training
Maintain 33% to Small Business
Maintain 5% to Small Disadvantaged Business
Maintain 5% to Women Owned Small Business
Maintain 3% to Historically Underutilized Business Zone
Maintain 3% to Service Disabled Veteran Owned Small Business
Third Party Management
In order to further ensure responsible management of third parties in our business, we have in place a Supplier Code of Conduct, a General Provision Purchase Contract, a Counterfeit Prevention Procedure and address conflict minerals within our contracts.
Supplier Code of Conduct
General Provision
Purchase Contract
Counterfeit Prevention
Procedure
Conflict Materials
Supplier Code of Conduct
We have a Supplier Code of Conduct, published on our website, and require that suppliers certify their compliance. If a supplier does not comply, we put a hold on receiving products from them until they become compliant. The Supplier Code of Conduct covers topics such as Human Rights, Anti-harassment, Non-discrimination, Anti-corruption, Anti-bribery, Insider Trading, Competition and Anti-trust, Information Protection, Environmental, Health and Safety, Human Trafficking, Global Trade and Compliance, Counterfeit Parts, Ethics Program Expectations and Reporting Mechanisms.
General Provision Purchase Contract
Our General Provision Purchase Contract is an agreement between the buyer and seller outlining the seller's contractual requirement for the buyer such as packing, shipping and delivery location, stop work authority, termination, quality control, warranty, counterfeit goods, payment, audits, confidentiality, intellectual property and compliance matters.
Counterfeit Prevention Procedure
We have a standalone Counterfeit Prevention Procedure Policy used to mitigate the risk associated with the acquisition of materials resulting in the unintentional use of counterfeit material in the assembly of our products. This Procedure also outlines the handling protocol(s) for suspected counterfeit components and material.
Conflict Materials
In our contracts, we have lists of banned and restricted materials. We report these to our customers and to our Director of Environmental, Energy, Health and Safety. We hold our suppliers accountable to the same expectations, as outlined in the Responsible Sourcing of Minerals section of the Supplier Code of Conduct.

Supplier Diversity Program
The goal of our Supplier Diversity Program is to provide maximum opportunities for small business participation through subcontracting and teaming opportunities. This program is led by our Small Business Professionals that create an environment that is open to challenging ideas, responsive to diverse voices and responsible to the communities we serve. Our Small Business Professionals utilize resources such as the Small Business Administration (SBA), Defense Contract Management Agency (DCMA), US National Small Business Week and the National Defense Industrial Association (NDIA) to support our program. They also participate in the Alliance of Supplier Diversity Professionals (ASDP) Certifications, the Certified Supplier Diversity Professional (CSDP) certification and DCMA quarterly Small Business Liaison Officers (SBLO) trainings. We also send out a Supply Chain Newsletter which quantifies successes and improvement areas such as Supplier Ratings.