June 20, 2023 — GRANT, Ala. — Kord Technologies [KBR] has developed FireFly, its first fully self-contained high energy laser weapon, and is currently showcasing the capability it described as a more cost-effective solution that can help inform prospective customers on concepts of operation for laser systems.
The company is now also working with
Elbit America
's new multi-mission MATR-X radar for threat tracking capability, with
Defense Daily
recently seeing the two systems working in action ahead of a customer demo this week...
---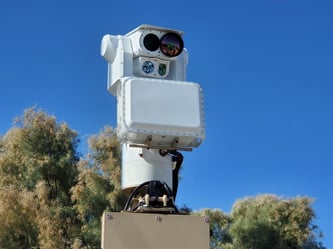 MORE ON MATR-X:
Elbit America's MATR-X radar is an engineering marvel that can simultaneously scan, identify, track, and target thousands of low airborne targets including small drones, low flying manned aircraft, cruise missiles and other munitions. MATR-X is short for M

ultimode/multi-mission Advanced Electronically Scanned Array (AESA) Tactical Radar - X-band.