WE DO WHAT'S RIGHT
WORLD'S MOST ETHICAL COMPANIES
"While the discourse around the world changed profoundly in 2017, a stronger voice emerged. Global corporations operating with a common rule of law are now society's strongest force to improve the human condition. This year we saw companies increasingly finding their voice. The World's Most Ethical Companies in particular continued to show exemplary leadership," explained Ethisphere's CEO, Timothy Erblich.

"This recognition underscores our employees' continuous commitment to operate with integrity and do what's right for our customers. I am extremely proud of our 1,600 employees."

- Raanan Horowitz, President & CEO
---
ETHISPHERE ETHICS INSIDE CERTIFIED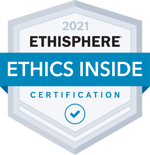 Ethisphere determined that Elbit America's relevant programs and initiatives meet or exceed the Verification criteria in best practices relating to governance, culture, ethics and compliance programs, and corporate social responsibility.