SEE THE ATMOS RIGHT IN YOUR OFFICE
SCAN THE QR CODE WITH YOUR MOBILE FOR ATMOS IN AR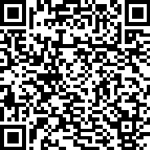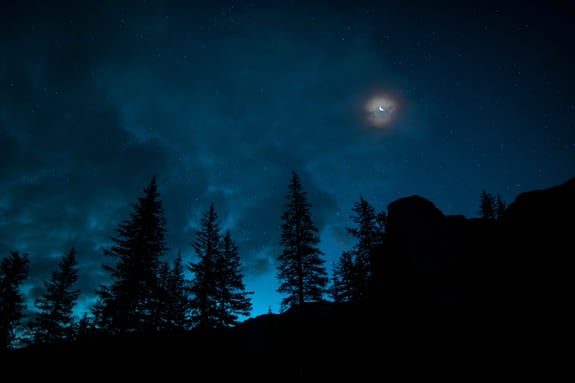 Integrated Clip-On Advanced Targeting Sight

No matter the environment, US Army Soldiers need maximum situational awareness and critical information on-the-move. ICATS delivers simultaneous thermal imaging across extended ranges, without adding considerable weight in low light conditions and degraded environments.
AMMUNITION & ARTILLERY SYSTEMS
Trusted performance and lethality. IMI ammunition and artillery systems have deliver high impact lethality for over eight decades. Our IMI products for the US Army include:
122mm training round, Flares, and the 105 high explosive.
HEADS UP. EYES OUT.
Our Night Vision delivers NIR and multispectral viewing capabilities suitable for a diverse range of US Army specialties, including network connected ground solutions providing heads-up/ real-time enhanced situational awareness, integration with clip-on thermal imaging, faster decision making, and data sharing within the common operating picture.
GET THE BEST – UPGRADE TO OUR COMBAT PROVEN GEN 3 HIGH FOM WHITE PHOSPHOR
ENVG-B | AN/PSQ-44
Enhanced augmented reality, situational awareness and blue force tracking capabilities
Enhanced visual acuity with image intensification and thermal fusion
White phosphor image intensification technology in a dual-tube goggle, helping improve target location, threat engagement, and access to imagery of the common operating environment
New high-resolution display
Wireless personal area network that works with the US Army's Nett Warrior system to produce augmented reality algorithms to provide greater situational awareness
SBNVG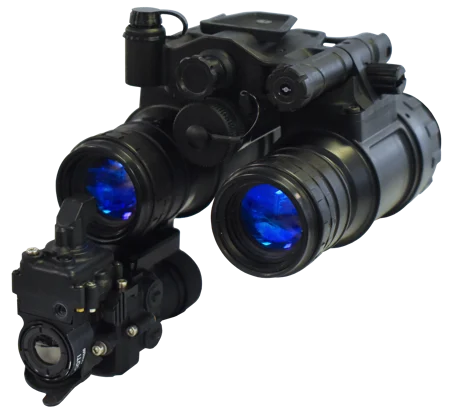 Our SBNVG enhances warfighter performance and agility with capabilities for overlayed image intensified and infrared imagery.
The SBNVG system features our AN/PVS-31D (F5032) night vision goggle with a clip-on thermal imager for superior nighttime viewing under a variety of environments and conditions.
AN/PVS-31D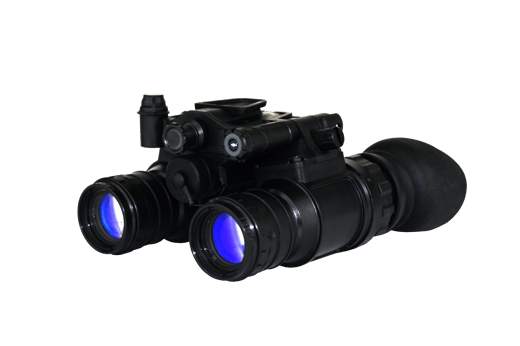 Our AN/PVS-31D (F5032) lightweight night vision binocular is designed for use by the individual soldier in a variety of ground-based night operations, and is manufactured according to the USMC SBNVG performance specification.
Gen 3 Gated Pinnacle® tubes
Industry-leading, close-focus technology
Image intensifier tubes serviceable at the unit level
Vertical viewing ability
Available in fixed or adjustable diopter lenses
Integrated IR illuminator
Manual brightness adjustment available
Submersible up to 20 meters
Built to meet requirement standards for NSN 5855-01-685-2918
AN/PVS-14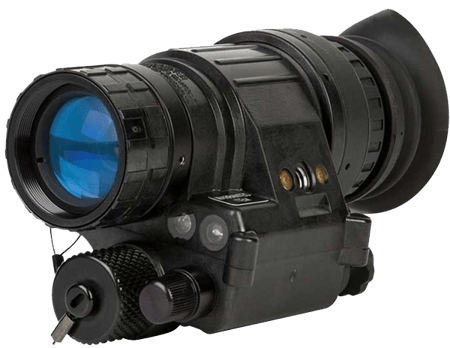 The versatile technology in the Elbit Systems of America F6015 allows soldiers to move rapidly and effectively in all night conditions without the need to carry multiple types of specialized equipment.
Engineered for handheld, weapon-mounted and camera-adapted use
Features a Gen 3 F9815 image intensifier tube with variable gain
Dark-adapted, unaided-eye technology provides Situational Awareness and close-range vision
Night vision aided eye provides long-range sighting of potential threats
FIREFLY
Add capability. Shed weight. Dominate the battlefield. Our FIREFLY amplifier product line is a first-ever modular, lightweight, high power amplifier product with swappable, stackable amplifier modules. Users can mix and match modules in a single-channel or dual-channel configuration to meet their unique mission requirements, while saving space and weight on their operating platform. FIREFLY amplifier modules support both new and legacy waveforms and includes integrated TX/RX cosite filtering, which improves radio system performance.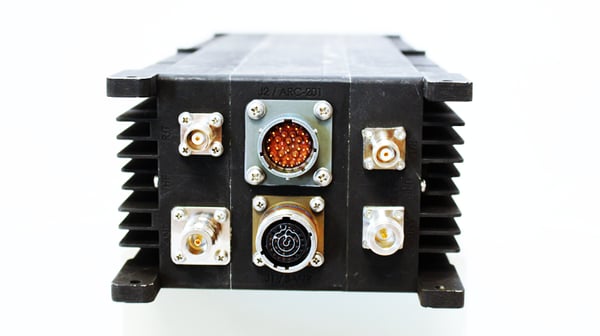 WE KNOW THAT EVERY OUNCE IS MISSION CRITICAL
EVERY OUNCE COUNTS
Our low-SWAP tactical communication amplifier saved the 160th SOAR nearly 15 pounds. Get light-weight communications solutions with modern waveforms and save the Army over 20 pounds in mission critical weight.
Unified Networks | Smart Tactical Media Router
Based on a modular and open architecture approach, the SMART suite allows for seamless integration of platforms, sensors, weapons and C4I applications, while maintaining the best SWAP (size, weight, and power) for its class. Selected for BFT CRADA and NETMODX, we are demonstrating our Smart Routing capabilities and our ability to connect BFT and tactical radio networks for US Army communication modernization.
TC-120M
The future of vertical lift demands modularity, high-performance, agility, and affordability. The TC-120M offers 120W of transmit power in a very lightweight package and allows aircraft to add game-changing MUOS capability while simultaneously shedding weight on over-burdened platforms. Complete with a Low Noise Amplifier (pre-amp) and state-of-the-art filtering, the TC-120M performs the functions of other LRUs within a single, fully-integrated, next generation open architecture power amplifier.


SUSTAINMENT AND SUPPORT SOLUTIONS
We are keeping Warfighters in the fight with full life cycle product & platform support ranging from component repair of electronics and hydraulics to air and ground vehicle fleet management by deploying value-added cost-effective solutions in our FAA and DoD 8210.1C compliant facilities.
Depot Level Repair Facility
Component repair of Avionics, Radar, HUDs, Electronic Warfare, and other systems
Aircraft, Rotary-Wing & Ground Vehicle Modification / Overhaul / Modernization
Test Equipment Design, Maintenance, and Support
Training & Technical Publications
Manpower support, supply chain / obsolescence management, DER engineering reach-back
Reverse Engineering and Third Party product Sustainment
Limited and Specialty Manufacturing
Depot Standup
FAA and EASA certifications
Repair, overhaul and upgrade of airborne systems, including: Rotary Wing dynamic components, AH-64 Apache helmet mounted displays, CH-47/UH-60 aviator night vision devices, HH-60 and OH-58D cockpit displays
Repair, overhaul and upgrade of ground systems, including: M2M3 Bradley gunner & command hand stations and turret processor units, M113 mortar variant upgrades, BAE Systems Armored Multi-Purpose Vehicle (AMPV) support, Advanced Mortar System RPDA
Aircraft MRO
Aircraft, Rotary-Wing Modification / Overhaul / Modernization

Depot-Level & Flight Line Maintenance and Logistics

Training & Technical Publications

FAA and EASA certifications

Manpower support, supply chain / obsolescence management, DER engineering reach-back, Slick & ISR Modifications

U.S. Army Fixed Wing Transport & SEMA CLS program support

Contractor Logistics Support (CLS) Services: C-26/UC-35

Providing OCONUS / CONUS aircraft maintenance and modifications at bed-down and maintenance facilities

Mission capable rates averaging over 95% on an 80% contract minimum
ILS Support Services
Integrated Logistics Support (ILS)
Obsolescence mitigation under DMS/MS
Training & Technical Publications